Job by Categories
Be ready for the excited experience, impromptu brainstorming,​ and the contagious fun of the office every day.​ We are never tired to build a team that does awesome job to bring the world closer in a simple way for a brighter life.​
HC
Human Capital
Manage our employees since they are the biggest asset of the company.
COM
Commercials
Serve consumer segments and focus on customer centricity.
ID
Information & Digitization
Responsibilities in all of the applications, billing systems, digitalization and data management.
NT
Network & Technology
Improve technology quality, security and cost of delivery
FI
Finance
Direct overall budgeting process in company.
CA
CEO's Office & Corporate Affair
Ensure all of the corporate processes are executed in accordance with applicable regulations and policies. ​
Working
Culture
Being in XL Axiata means being in the leading position. Spirit of solidarity that appreciates each individual's character strength has made XL Axiata as the pioneer of technology in Indonesia telecommunication industry. Find various things than can bring you closer to us. XL always fully supports every person who wants to achieve for common progress.
What Our Peoples Says
Octavia Kurniawan​
Chief Sales Officer
Overseeing the management of the entire sales department, overseeing all sales-related activities include answers directly to the business stakeholders, it's my day-to-day activities and yes, it's very challenging. But my role does not stop there. Surrounding with a pack of agile sales team who starving for development, challenges, and eager to compete is creates me to be a sharp leader. If the characters suit you, why don't we start to work together here in XL axiata.
Lyra Filiola​
Group Head Premium Segment​
A Segment Head position may sound scary. It is when the responsibility of one of company's revenue streams lies on you, big deal! In Premium Segment, I get to work with the team to deliver the best experience of Postpaid service to the market, under XL PRIORITAS brand. Postpaid has been a less preferred type of service in Indonesia for so many years, and that is an opportunity. And, I too aware that it is important for me not only to keep up with the latest economy & market outlook, but also with what is trending in the society. Keep my mind open to keep ideas flowing. Challenging position, it is! But it also the one that made me the professional that I am today.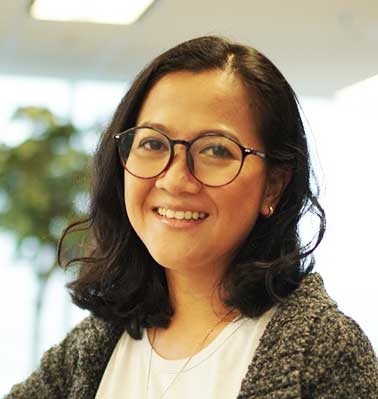 Ajeng Wisma Dwi Asririni​
National Key Account Manager - Banking​
Becoming a Key Account for Banking seems like a very tedious and very stiff job. Something about banking seems creepy and very formal job. This job is responsible for the largest top-up channel in the modern channel at 37% in 2020, and Banking is a channel that provides significant data package revenue growth up to 106% since 2016. With this spirit of digitalization, there are so many things that we can collaborate between Telco and Banking industry. I believe the power of Telco and Banking will make our life smarter and easier.
Dita Widy Amallya
Business Intelligence
They say, "Marketing without data is like driving with your eyes closed". It is very important for companies to have analytical skills so that they can determine the right marketing strategy based on data. As a Business Intelligence Analyst, processing data into insights in the form of reports or dashboards that can be used as a foundation for user action plans is my daily job. Though I was not privy to high-level information, I could safely deduce that improvements on the company's marketing strategy could expedite its growth.
Fyda Fauziyyah​
Digital Content Specialist​
XL is a great place to work. I truly enjoy coming to work in such a family, friendly atmosphere. I remember joining XL back in 2018 as a Development Program participant, and now I have become a Content Officer. This in itself shows how XL has given me learning experiences that help me become a better professional. I have gained valuable experience on all of the interesting projects, and I also had the opportunity to work with some great mentors who have always been motivating and supportive.